---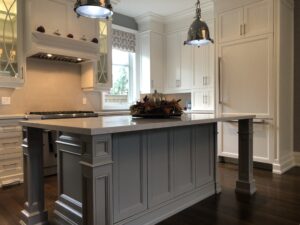 Sharrard Painting & Fine Finishing specializes in providing Kitchen Cabinet Spray Painting / Kitchen Cabinet Painting and Refinishing in Toronto and the surrounding area.  We provide both on-site and off-site fine finish spray painting services using airless and HVLP sprayers.  Our professional and state-of-the-art spray painting & finishing facility is located in Oakville, Ontario, Canada.  Contact Us for your free cabinet refinishing estimate.  
---
---
---
---
SPRAY-PAINTED KITCHEN CABINETRY: HOW THE PROCESS WORKS
Kitchen cabinet refinishing projects can take a week to three weeks to complete depending on the level of service required. If the customer drops off the pieces we can usually turn them around quickly but we find that customers typically want their entire cabinetry professionally spray painted (the gable ends, kick plates, crown, valances, etc.) not just the re-moveable pieces such as the doors and drawers.
A complete kitchen cabinetry overhaul, including gable ends, kick plates, crowns, valances and decorative spacers will usually involve 3 to 4 trips to your house.
Step One: get a free project estimate/assessment. This is done typically via email (with pictures sent in by you) but may be done over the phone or in person.
Step Two: conduct an on-site survey. Done after the assessment is done. The scope and requirements are validated, samples and colours are reviewed, and the final price of the project is determined.
Step Three: we start by first picking up the doors, drawers and any other items we thought could be more effectively finished at the shop vs. in your home.
Step Four: completion of the on-site work. We spray paint the base cabinets, gable ends, kick plates, crowns and valances on-site; basically all the stuff we could not take with us. Depending on the size of the kitchen this will take one to two days to complete. See this article for complete details regarding the spraying of on-site cabinetry.
Step Five: we re-install and re-align your cabinet doors and drawers.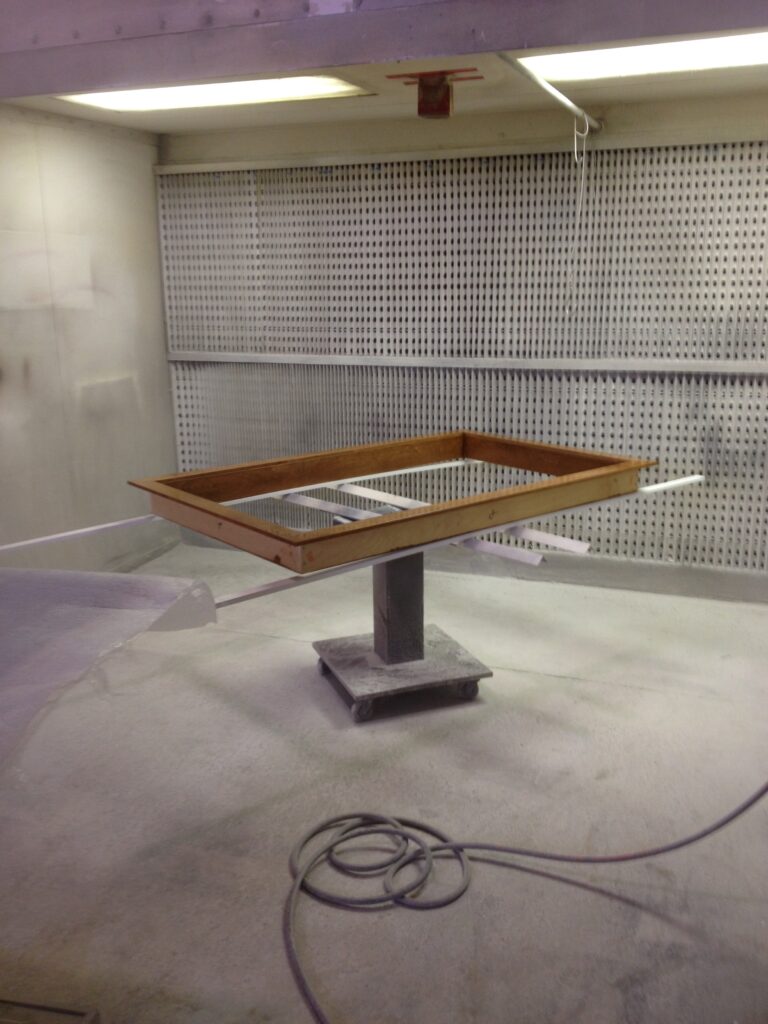 ---
CABINET PAINTING WITH POST CATALYZED SOLVENT BASED LACQUERS
Serious cabinet refinishing work requires the use of lacquers and not traditional house paints. The majority of kitchen cabinet refinishing jobs done by Sharrard Painting and Fine Finishing use a post-catalyzed solvent-based lacquer system. We do not use water-based paints or water-based lacquers ~ these products simply do not have the durability and the longevity required for finishes in kitchens and bathrooms.
The SUMMIT line of conversion coatings from Katilac Coatings under distribution from Halton Chemicals is our go-to SOLVENT-BASED lacquer for kitchens and bathroom applications.
Meets KCMA Standards – Kitchen Cabinet Manufacturers Association
Durable surface – very good hardness, block resistance, and print resistance. Excellent mar resistance.
Cannot be applied using a brush and roller technique, requires spray application.
Has a higher VOC content than water-based lacquers and can only be sprayed in residential situations provided the right venting is in place (i.e portable air exchanger).
Harder to apply must be sprayed by a skilled spraying professional, must be catalyzed prior to being used, and must be used within 24 hours of being mixed
Multiple coats can be applied on the same day.
Primer and paint can be sanded within an hour of its application. Sands to smooth and fine powder, not gummy.
Product Specification Documentation – Katilac Coatings D28 Lacquer Products